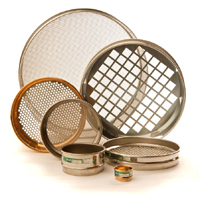 In addition to our Precision Electroformed Sieves, we offer Stainless Steel Test Sieves.
ASTM E11 / ISO 3310-1 specifications govern some particle sizing procedures. Test Sieves following these ASTM or ISO standards are supplied as standard Compliance Grade, and are serial numbered and supplied with a certificate of manufacturing conformance. Users requiring further verification of opening sizes can upgrade to either Inspection or Calibration sieves. Pricing provided is for standard conformance sieves. Please inquire for pricing if you prefer an upgraded verification.
3-inch (76mm), 8-inch (203mm), and 12-inch (305mm) are the most commonly used frame diameters, and are stocked and ready to ship in the most popular mesh sizes.
Our stainless steel test sieves are manufactured with a full height or half height frame. Using half height sieves with finer material sizes allows more sieves in a stack. Selection of frame diameter and height is based on specimen volume and particle size. A sieve with more surface area processes material much more accurately and efficiently, and also reduces "blinding", the clogging of mesh openings with particles just slightly too large to pass. Ideally, a sample fraction should cover the surface of a given sieve in no more than a couple of particle thicknesses deep. The height of the frame must be great enough to allow particles to roll, bounce, and reorient to the mesh during agitation.
Pricing is provided for the 8-inch diameter Compliance Grade sieves, and is available upon request for 3 and 12-inch diameter sieves.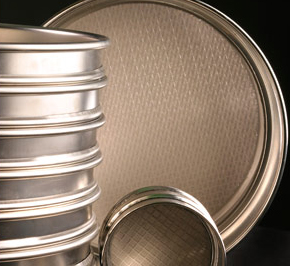 We offer in-house test sieve calibration and inspection services to include Precision Calibrated test sieves.